Simplify and deepen your home building experience

Dream
Unlock your home's potential. Develop a design for your home with a dynamic team of independent architects and designers who work in collaboration with Damskov to bring your ideas to life.

Plan
Every project starts with a great plan. Damskov ensures every detail is carefully calculated, scheduled, and executed to meet your project objectives, while also passing our rigorous quality control standards.

Build
Entrust your project to a talented team of specialists—from cabinetry, carpentry, flooring, lighting and design to whatever it takes, to build something spectacular.
Build Something Spectacular
Striving to be the best home builder in the Pacific Northwest, we welcome your complex design challenges. You benefit from our relentless pursuit of greatness—with a high level of knowledge, skill, and attention to detail.
All of your project details. One seamless experience.
Damskov utilizes an essential construction management process that transforms your basic needs, routines, budget and timeline into a reliable system of accountability. You are involved and informed throughout your project—digitally connected to every construction detail.
Refreshingly Easy to Work with
Take comfort in forming a relationship with a robust team of people who are downright enjoyable to work with—each earning your trust by being transparent and honest while advocating for you and your project.
Welcome to your new home!
Building a new home can be overwhelming…and still the best way to live in complete comfort. This is the safe place where Pacific Northwest homeowners build their custom homes uniquely and effortlessly—teamed together with independent architects and the project management and construction experts at Damskov!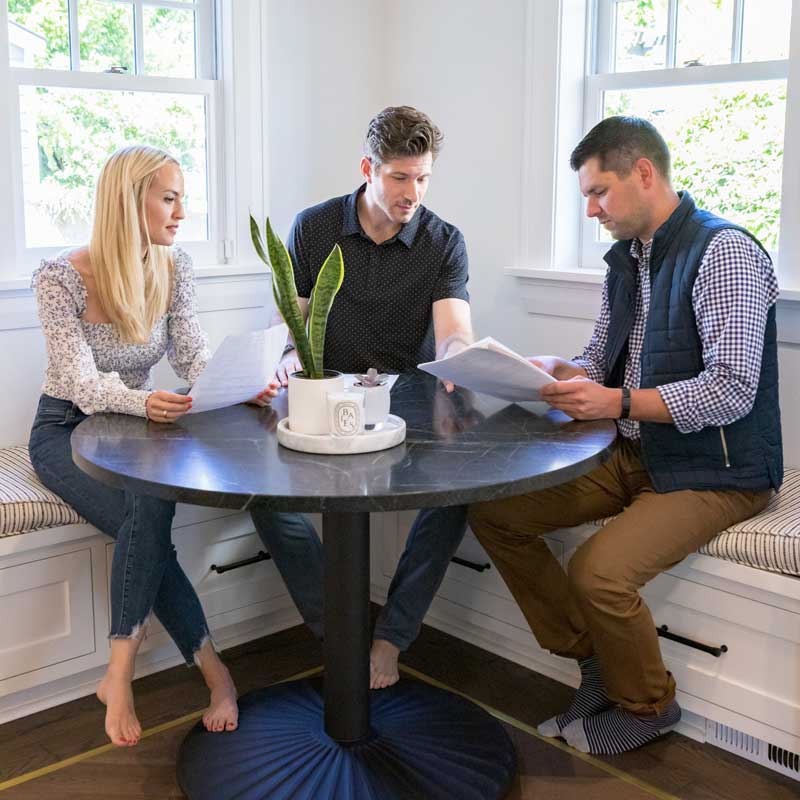 Bring your ideas home! 
Ready to work closely with a highly specialized construction team whose commitment and motivation is to deliver an amazing, seamless home-building experience?  
Building Homes.
Building Trust.
When people love what they do, they change the world.
"We recently completed an almost gut renovation of our 1989 house with Damskov Construction. Cam, Tom, Jordan, and the crew were fantastic to work with. They are organized, professional, do high-quality work. As a bonus, they seem to enjoy what they do and are fun, nice people to be around. Even our kids had fun with them. They seem to have good relationships with the subs they choose to work with, and we were happy with all of them too…Cam and his team were respectful of our budget, interested in helping us find ways to save and minimize the cost of unexpected expenses."
"We are a full-service Architecture, Interior Design, and Landscape Architecture design firm in Seattle that has worked with Damskov on a variety of residential projects. Cameron and his team bring a great sense of professionalism and passion to every project they work on. Cameron is calm, collected, organized, detail-driven, and cares deeply about what they are doing. They're a pleasure to work with and we highly recommend them."
"We were incredibly lucky to have had the opportunity to work with Damskov on our full remodel. Cameron was very hands-on. He understood the vision we had for our home and made it happen. Cameron was very attentive, organized, responsive, and calm under pressure. I especially appreciated the fact that he respected our budget and timeframe, and helped us make decisions to ensure we stayed within our budget, but still selected high-quality fixtures and details."
Sign up to receive professional home building tips and industry trends in the Pacific Northwest, delivered quarterly:
1940 124th Ave NE, Ste A107, Bellevue, WA 98005
info@damskovconstruction.com
Hours of Operation
7:00 AM – 4:00 PM
Monday through Friday
Licensed
Washington State Contractor License # CC DAMSKCL877DN