Our hearts are full, honored to be recognized for our work and the values we instill in everything we do. With a motivation to innovate—to create something spectacular—we remain motivated and committed to being the best builder in the Pacific Northwest.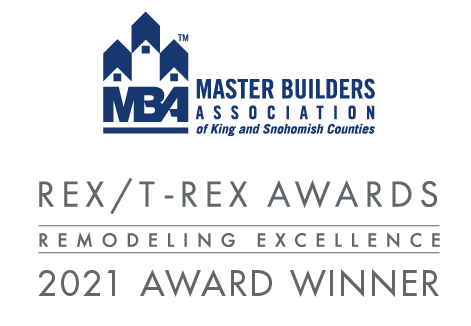 BELLEVUE, Wash.—June 12, 2021— Each year, The Master Builders Association of King and Snohomish Counties (MBAKS) celebrates winners of the Annual Remodeling/Trades Remodeling Excellence (REX/T-REX) Awards honoring the very best of our remodelers and tradespeople. This year's 34th annual event was presented by ERNWest on Saturday, June 12, 2021. Read more

GC Magazine features the best general contractors in Bellevue, WA. The firms featured here are either based in the city or have done multiple remodeling, additions, renovations, and general contracting projects in the area. We looked at the experience of each of the firm's principals, their years of practice, accreditations, awards, press publications, and industry recognition earned through the years. Most importantly, the listing considered the reviews and testimonials that these companies have received from their past clients. Read more
Bring your ideas home!
Ready to work closely with a highly specialized construction team whose commitment and motivation is to deliver an amazing, seamless home-building experience?  
Sign up to receive professional home building tips and industry trends in the Pacific Northwest, delivered quarterly:
1940 124th Ave NE, Ste A107, Bellevue, WA 98005
info@damskovconstruction.com
Hours of Operation
7:00 AM – 4:00 PM
Monday through Friday
Licensed
Washington State Contractor License # CC DAMSKCL877DN